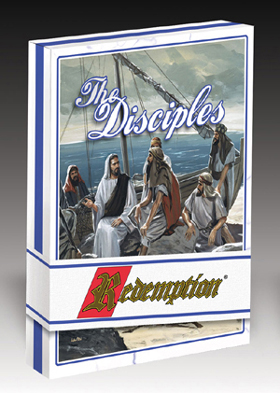 The Disciples is a new expansion that was released in limited amounts at Nationals 2010, and was made available for retail sales in late September 2010. It is the thirteenth expansion released for Redemption, and the largest set released since Priests. This new expansion continued the "Box" style of expansion that began with 2009's Thesaurus Ex Preteritus. In this form, four new cards are randomly included in each box, along with eleven random cards from previous releases. Unlike Thesaurus Ex Preteritus, however, the new cards were not printed as foils.
The Disciples strengthens theme decks, including Disciples and other New Testament themes.
Expansion size: 115 new cards
Release style: Box
Each box contains:
- 4 Disciples cards
- 4 Apostles cards (mostly rare or ultra rare cards)
- 4 Patriarchs cards (mostly rare or ultra rare cards)
- 3 Angel Wars cards (common, rare, or ultra rare cards)
Retail price for a card pack is $5.00. A display box contains 24 card boxes and retails for $120.00
Card List
Edit
Good Enhancements
Edit
Evil Characters
Edit
Evil Enhancements
Edit
Lost Souls
Edit
Artifacts
Edit
Covenants
Edit
Fortresses
Edit
Community content is available under
CC-BY-SA
unless otherwise noted.