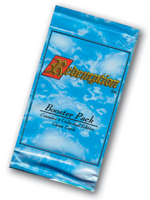 The Limited Expansion was the first full expansion of booster packs in Redemption. This set was released in July of 1995 in conjunction with the Limited Starter Decks, with the initial launch of the game at Origins.
Highlights
Edit
The Limited Expansion contained a fairly broad distribution of characters and ideas from Biblical literature, and was not focused on any particular theme. Nearly half the cards had no special ability at all, and most of the ones that did were Rare. Many of the abilities were simple ignores and heal cards. Abilities of particular interest include:
Repentance - the first Convert card in Redemption
Obedience of Noah - the first card in Redemption that allowed a Hero to choose his blocking Evil Character
Authority of Christ - the infamous mass-nuke card, soon to be replaced by its more powerful promotional brother.
Net, Snare, and Stocks - all-purpose capture cards that still hold some weight
Lost Souls (2-line) - a perennial mainstay in many decks
Printing and Distribution
Edit
The Limited Expansion is comprised of 150 cards: 50 Common, 50 Uncommon, and 50 Rare. A booster pack consisted of 8 cards: 4 Common, 3 Uncommon, and 1 Rare.
Approximately 8.5 million cards were printed in the Limited Expansion, or 1.1 million booster packs, or 24,000 display boxes.
Community content is available under
CC-BY-SA
unless otherwise noted.